TESTIMONIALS

Just look at what the Stars say about Lynne Palmer –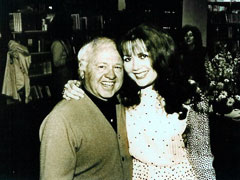 Mickey Rooney, Lynne Palmer

" My life-long friend Lynne Palmer, has given you an in to a brand new future. My every move is guided by Miss Palmer's Astrological forecast."
Mickey Rooney



"When I haven't been sure which way to turn, consulting Lynne Palmer…. has helped lead me to more confident choices." Lynne Palmer hits the nail on the head with an astounding degree of accuracy. Lynne Palmer's analyses are most insightful. . . "I am grateful for Lynne Palmer's astrological guidance because it has taught me the depths of my own gifts and encouraged me to develop them. Her predictions are reassuring and heighten my self- confidence." Ruby Dee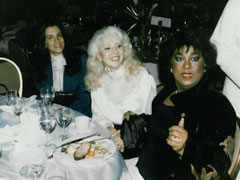 Catherine Gropper, Lynne Palmer,
Ruth Brown

"When my career was at a standstill, I met Lynne Palmer, whose predictions turned out to be accurate… As a matter of fact, in 1989 I won the Tony award for Best Actress in a musical… I'm grateful I met Lynne Palmer, and thank her so much." " Lynne Palmer correctly predicted I would win a Tony, Grammy, perform in a comedy film. which was the role of Maybelle in HAIRSPRAY. And that I would be shocked with unexpected shocks and unexpected moves, which turned out to be the 1994 California earthquake." Ruth Brown, Singer



"Lynne is the most accurate and perceptive astrologer of all, confronting the truth no matter what, and guiding you into your destiny." Catherine Gropper, Playwright



"You're the best looking Astrologer I've ever seen." Johnny Carson



"Thank you for your astrological help in saving our home from a flood." Mrs. Dane Clark

"In no way did Miss Palmer conform to our visions of an astrology teacher. She was feminine, cute and pretty as a postcard. She wore not a smidgen of batik nor even an amber bead. On the contrary, her pink suit possibly came from Chanel and she sported a few tasteful jewels that looked hot off the workbench of Van Cleef and Arpels." Helen Hayes and Anita Loos from their book Twice Over Lightly.



"For years I've consulted Lynne Palmer about opening dates and special events in my life and career. She has always been right on target-she's the best!"
Doris "Just One Look" Troy, Singer and Actress.


---
Lynne and some of her other famous clients



| | |
| --- | --- |
| Frank Sinatra, Mia Farrow, Lynne Palmer, Joe E. Lewis | Lynne Palmer, Leslie Uggams |
| Sigrid, Lynne Palmer, Gunther Gebel Williams of the Ringling Bros. Circus | |
---
Look what these famous people have to say about Lynne Palmer


"Hermoine is hooked for horoscopes. This record kit is intriguing … exciting wonderful.
Hermoine Gingold, Actress



"Book To Read: Lynne Palmer's astrological study of the late Billy Rose. Revealing and dynamic-sensational in its implications." Sydney Omarr, The National Tattler



"I and two other people won a Emmy for make-up on AS THE WORLD TURNS. You told me that I could win an award. You were right! Diane Ford, Make-up Artist



"Having known Lynne for 15 years… no words can fully express my appreciation of her remarkable accuracy in forecasting." Joyce Vincent, Make-up Artist



"… Lynne Palmer's evaluation of my natal horoscope lay before me… All I can say is that she had my strengths and weaknesses down pat, pointing, them out with a clarity seldom found in horoscopes. Lynne Palmer's individual projections hit the nail on the head every time: the situations she has predicted to me over the years have inevitably occurred when she said they would.
Prof. Hans Holzer, Ph.D., Author and Parapsychologist

"Astrological Compatibility is the latest book written by Lynne Palmer, one of America's most gifted and authoritative astrological writers. Its three hundred and forty-five pages are already being accepted as THE text for study of astrology's most sought after answers to client's needs -- Compatibility. It was initially offered at this summer's Las Vegas Convention and was the most sought after and popular book, regardless of the subject, in the book store. It is the BEST BET of today's market."
American Federation of Astrologers