TESTIMONIALS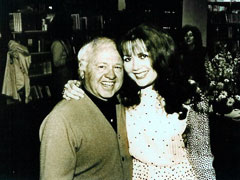 Mickey Rooney, Lynne Palmer

"My every move is guided by Miss Palmer's astrological forecast."
Mickey Rooney, Star of stage, screen and television, author

ANECDOTE: Mickey was in New York City getting ready to appear on Broadway in SUGAR BABIES. He called Lynne and said he was going to open the following week and wanted to know how it looked. The official date he gave Miss Palmer for Opening was not good astrologically and Lynne said the show would close if it opened on that day. However, Previews would be performed prior to the Official Opening Date. Lynne explained to Mickey that the first Preview date was good. Immediately, Mickey changed his mind and agreed that the Preview was the correct Opening night date. SUGAR BABIES was a smash hit and made Mickey a multimillionaire.

"I and two other people won an Emmy for make-up on the TV soap opera AS THE WORLD TURNS. You told me that I could win an award. You were right! "
Diane Ford, Make-Up Artist

"Thank you for your astrological help by saving our home from a flood."
Mrs. Dane Clark (former model and wife of actor Dane Clark -- movies, TV)

"I'm devoted to Lynne Palmer for her knowledge and guidance."
Joe Franklin, WOR radio show host and WOR-TV syndicated host

"Her timing is incredibly accurate. I'm grateful for her input whenever I have to make important decisions in my life."
Alan Reiss

"For years I've consulted Lynne Palmer about Opening dates and Special Events in my life and career. She has always been right on target---she's the best!
Doris Troy, Singer, Actress, Songwriter (Just One Look)

"Lynne is the most accurate and perceptive astrologer of all, confronting the truth no matter what and guiding you into your destiny."
Catherine Gropper, Artist, Playwright

"I just wanted to take this moment to say what a positive inspiration you have been in my life, and how I value you!"
Cattel, Intuitive Astrologer

"Lynne Palmer's evaluation of my natal horoscope lay before me….All I can say is that she had my strengths and weaknesses down pat, pointing them out with clarity seldom found in horoscopes. Lynne Palmer's individual projections hit the nail on the head every time: the situations she has predicted to me over the years have inevitably occurred when she said they would."
Hans Holzer, Author, Parapsychologist Professor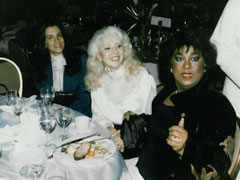 Catherine Gropper, Lynne Palmer, Ruth Brown

"Years ago, when my career was at a standstill, I consulted with Lynne Palmer, whose predictions turned out to be accurate and whose counsel has proven invaluable to me ever since. As a matter-of-fact, in 1989 I did win the TONY Award for best actress in a musical on Broadway and the show I'm in is a sell-out! I'm grateful I met Lynne Palmer and thank her so much for the help during this trying period."
Ruth Brown, Singer, Actress, Tony and Grammy Award winner, Honoree in the Rock and Roll Hall of Fame

"Having known Lynne for 15 years…no words can fully express my appreciation of her remarkable accuracy forecasting. Only a skilled and accurate astrologer as Miss Lynne Palmer can be helpful to one understanding the value of each moment that is ruled by positive and negative aspects in one's chart. Whenever I'm in doubt about some happenings, I find it helpful to refer to my chart and cassette reading prepared by Lynne Palmer, especially when confronted with impotent decisions. Miss Lynne Palmer played quite a role in helping me plan my future to my best advantage regarding my personal and career life."
Joyce Vincent, Make-Up Artist for TV, Films and Commercials

"I am grateful for Lynne Palmer's astrological guidance because it has taught me the depths of my own gifts and encouraged me to develop them. Her predictions are reassuring and heighten my self-confidence. When I haven't been sure which way to turn, consulting Lynne Palmer has helped lead me. Lynne hits the nail on the head with an astonishing degree of accuracy. Her analyses are most insightful."
Ruby Dee, Actress--Film, Stage, Television; Author; Playwright

"I first came to see Lynne Palmer in her apartment in New York City back in 1988 or 1989. She taught me more in two hours, or so, than any book or any person has taught me collectively. She was so nice to me. I kept asking: why?" Why do you say that?" and she kept stopping the tape to answer all my questions. I was in awe of Lynne. She has been quite an influence in my life. Miss Palmer helped me to direct me in ways that I know have made my life better.
She accurately predicted the exact date that I would have a hit record in a foreign country. That was in 1994. Also, Lynne saved my life by telling me to be careful when I was driving between very specific dates…she told me to go through the light if it looked like someone might have a gun. I got caught in the middle of a shoot-out after leaving a night club and I did exactly what Miss Palmer told me to do and I was okay. She is the best astrologer EVER in the history of the world."
Andrea Eigner, Singer, Band Leader, Song Writer

"Lynne Palmer's reading for me brought me good fortune. She told me that during last spring I would have a super lucky period. Well, I seized the opportunity and became a contestant on the $10,000 Pyramid Show and I won the top prize. The exact date was May 23, 1974. I thank her for the advice."
Jo-Ann Garbarine

"I'm grateful for Lynne's input when I had to make possibly the biggest decision of my life. Her timing is incredibly accurate. Anyone needing 'numbers luck' should have their Personal Power Numbers and Lucky gambling days provided for them by Lynne Palmer."
Gail Howard (America's No. 1 Lottery Expert)
Note: I prepared a detailed Astrological Report and Numerology Analysis for Gail Howard

"I won $60 on the Arizona Lotto--4 numbers were right. I win at Bingo every time I go on the days in red from my good luck day's calendar you did for me. Thanks a bunch."
Kandi Isaacs

LYNNE PALMER'S "LAW OF ABUNDANCE CHECK GIMMICK"
Through the years, I have appeared on numerous radio and television shows and told the live audiences, and at-home viewers, how to do my check gimmick to bring money into their lives. Once I am on the air, the radio and television stations become flooded with hundreds of calls. Every year, I appeared on The AM Morning TV show in Cleveland, Ohio. The public called, while I was on the air, and gave testimonials as to how their money increased after doing my check gimmick. On one of my appearances, the AM Morning Show presented a huge check which showed how to write the Law of Abundance check. I, and the TV host, both held the check with each of us at opposite ends of the check. To show how popular my Check Gimmick was, a company that advertised on the show gave me a key chain that was attached to a rubberized version of the Law of Abundance check.
The actor, Jim Carrey, was interviewed by Barbara Walters on a television show. He told her that he had read in a book about a Check Gimmick. So he did it. However, he wrote the check for $20 million dollars (You are not supposed to write an amount on the check, but some people do not heed my instructions). When he made the $20 million dollars, he kept the check until his father died, and buried the check in his father's casket.
Note: The only book that Jim Carrey read had to be a book I wrote (Money Magic, Prosperity or my annual Astrological Almanac), because I am the Originator of the Check Gimmick.
Years ago, I appeared on a radio show in San Francisco and gave instructions for my Check Gimmick. About a year later, a Mrs. Roberta J., called me and told me how she did well money-wise after writing the Check Gimmick. However, she was calling me because her friend, Gertrude, was confused after doing my check gimmick and wanted me to explain what went wrong.
The year before when Roberta heard me on the radio show, she called Gertrude, who was having financial difficulties, and told her about the Check Gimmick. But Roberta forgot to tell Gertrude that the amount and date on The Law of Abundance check should NOT be written on the check.
However, Gertrude wrote the date and $200 on the check. Later that same day, she went to a supermarket, shopped for groceries and on the way out stopped at a vending machine; she put a coin in a slot in the vending machine to buy a snack. To her amazement, a bundle of coins came pouring out. She swooped up the coins, put them in a paper bag and went home. Once she got inside her house, she counted the money and it came to $200 (the amount she wrote on the check).
After that experience, Gertrude waited to get more money, but it did not happen, that was why she was confused and wanted Roberta to call me. I explained that because she wrote the date and amount on the check it was only good for that date. It is best not to write a date or amount, because you want The Law of Abundance to pay you unlimited sums of money all the time. By writing the date and amount on the check, you are limiting the amount of money that you could receive from The Law of Abundance.--thus, you should NOT LIMIT yourself to a specific date or amount. By so doing, it is possible that you may get MORE money than what you limited yourself to receive.

"August 6, 1982, I entered New York City's Wingo newspaper contest, I did the Law of Abundance check, held it in my hands and said, 'Law of Abundance make me a winner!' I was told I was a winner--prize $50,000, but I had to share it with four others, thus, we each received $10,000. Believe me, 'Law of Abundance' worked wonders for me."
Joyce Vincent, Make-Up Artist for TV, Films and Commercials

"I wrote the Check Gimmick and within days an insurance company called me and told me that they had been in the process of switching all of their accounts to a computer. In so doing, they discovered my misplaced insurance policy. I had forgotten about the policy, and was in complete shock when they informed me that my policy was paid-up and had matured for fifteen years, thus the company owed me four-thousand dollars! I attributed this good luck to my having done the Check Gimmick."
Beverly R.
---
Lynne and some of her other famous clients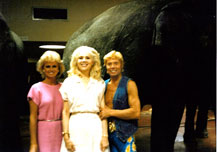 Sigrid, Lynne Palmer, Gunther Gebel Williams of the Ringling Bros. Circus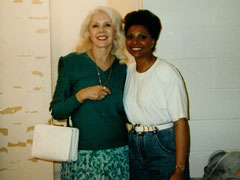 Lynne Palmer, Leslie Uggams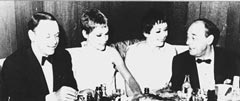 Frank Sinatra, Mia Farrow, Lynne Palmer, Joe E. Lewis