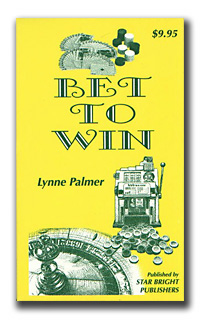 BET TO WIN
by Lynne Palmer


Do You Play the Lottery, Roulette, Blackjack or the Slot Machines?
IF YOU DO, THIS BOOK IS FOR YOU!
DO YOU KNOW…
What kind of Gambler you are?
Are you a Loser or Winner?
How to use Astrology to Win?
How to use Numerology to Win?
How to use your Psychic Ability to Win?
How to use Gemstones or Jewelry to Win?
Beliefs, Superstitions and Magical Gimmicks can make you Lucky?
How to tell, while playing a Slot Machine, if you are going to Lose?
LEARN ABOUT
HOT TIPS (and Instructions) for playing Blackjack and Roulette.
METHODS to Increase your chances of Winning the Lottery
HOW TO play Video Poker Machines…
Instructions and Hot Tips
Learn ALL of these things and more
in this Easy-To-Read Book
The Luck That Leads to Winning…
The Magic Needed to Win Jackpots…
The Knowledge You Gain…
You'll find them all in
LYNNE PALMER's
BET TO WIN

• $9.95 • ISBN: 0-9709498-2-0 • Paperback
Bet to Win - Click Here to Order!