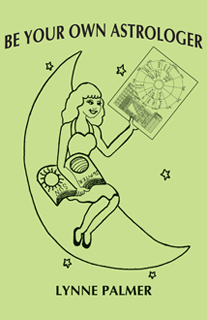 Be Your Own Astrologer!
by Lynne Palmer

Click Here to Order

A one-of-a-kind book, size 8 and 1/2 x 11 and 1/2--316 pages Easy to read. Learn immediately How to Interpret your Natal, Present and Future Horoscope. Contents:
Events--what planets involved.
Meanings of Rising Signs, Retrograde Planets and much more.
10 Planets-each in its own chapter. The following is contained in each Planets chapter:
A. The meanings of the zodiac signs.
B. The meanings of each planet in each house of your horoscope.
C. Each planet aspecting each other on the harmonious and discordant side.
A computer service: for $14.00 order your Natal and Progressed Horoscope for 2 years of the present and future.

$24.00 • ISBN: 1981125221 • 316 Pages

Click Here to Order